The local Lowes had a clearance mower out front listed for $300 off sticker ($1600) a month ago. I had been eyeing the thing for a while because it looked "sun ravaged", but I guessed that the mechanicals would all be perfectly fine.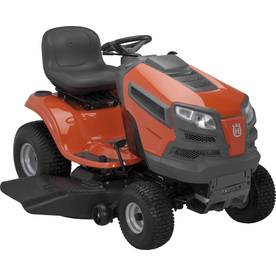 Husqvarna YTH21K46
I got it home, and found that it wouldn't start (not too surprising given how long it was sitting out). So, I got to work. I bought a new battery, a 12v battery charger (good investment to have for cars), a couple spark plugs, and a new air filter. I worked for a few hours throughout the last 3 weeks, trying to get the thing to crank. I finally got it to a point where it was stable, but still not starting. It would turn over, and run for 5-10 seconds, and then die.
This was either a carburetor or a fuel supply issue. The carb is factory sealed, so I was not going to void the warranty to fix it myself. I had the mower picked up for a warranty fix.
I just got a call today that it wasn't a carb issue, but a fuel supply issue. There was a bunch of crud in the fuel lines, and the filter was 100% clogged. I hadn't thought to check that, because the thing had hardly been run, and why the heck would there be gunk in the fuel tank, even if it had been sitting for 2 years? Anyway, after getting a great deal on the mower ($900 for a $1600 mower), putting $75-100 into getting it running is a small price to pay!
Overall, still a good investment!